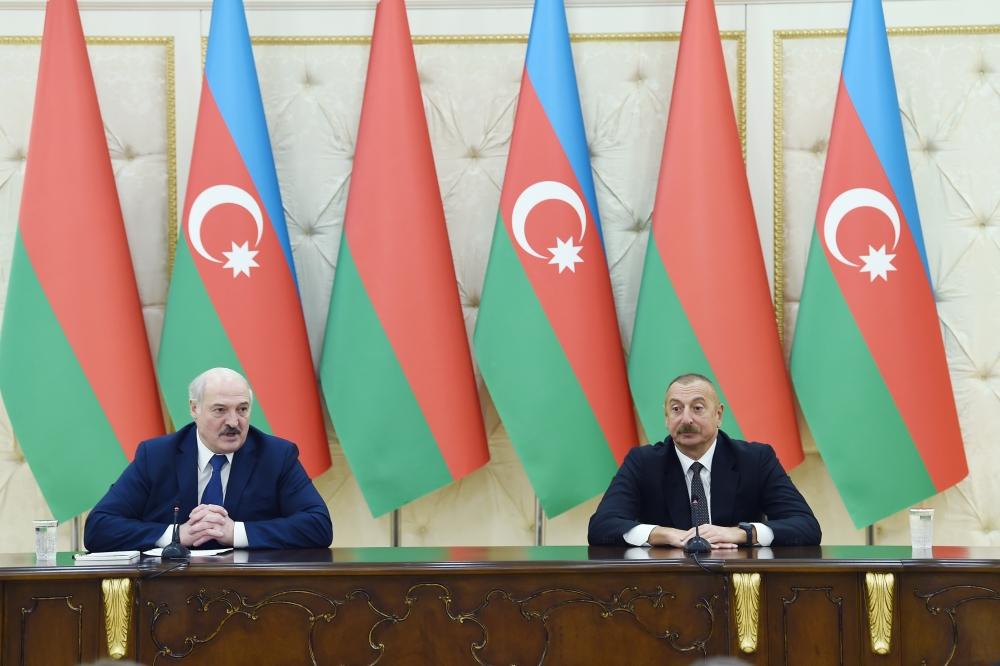 Azerbaijan focused on confidence-building measures and joint regional projects [UPDATE]
April 15, 2021 13:39 (UTC + 04: 00)
1,152
By Aisha Jabbarova
Azerbaijani President Ilham Aliyev said his country was focusing on strengthening confidence-building measures and communication projects in the region in the post-war period after the resolution of the Nagorno-Karabakh war with Armenia. He also described the overall post-war situation as positive.
The president made the remarks during a press conference held with his Belarusian counterpart Alexander Lukashenko in Baku on April 14.
He said regional transport and logistics projects are being discussed within the framework of the Azerbaijan-Armenia-Russia trilateral working group at the level of deputy prime ministers and within the framework of consultations with neighboring Turkey and Iran.
The trilateral working group Aliyev refers to was established following the January 11 meeting in Moscow of Azerbaijani, Russian and Armenian leaders who agreed to restore lines of communication and security between Azerbaijan and Armenia. after six weeks of war in 2020.
It should be noted that article 9 of the agreement of November 10 provided for "the unblocking of regional economic and transport links.
Commenting on the 2020 Nagorno-Karabakh war which saw Azerbaijan liberate its occupied territories, Aliyev said that Azerbaijan resolved the conflict on its own by implementing four UN Security Council resolutions that remained on paper for 27 years, because the mechanism of their implementation was not used. .
"The messages that the co-chaired countries of the Minsk Group [mediating the conflict since 1994] sent to the Armenian side to end the occupation were also not respected, while their statements that the status quo was unacceptable were not heeded by the Armenian side, "Aliyev said.
Speaking about the relationship with Belarus, Aliyev said that the two countries have significantly increased their turnover in 2020 due to Azerbaijan's supply of crude oil to Belarus.
"In the first quarter of this year, the supply of crude oil continued in higher volumes, and I believe we will significantly exceed last year's level."
Aliyev noted that he had discussed with Lukashenko the future participation of Belarusian companies in the restoration of the liberated territories of Karabakh in a number of areas, stressing that his government would only involve companies from friendly countries in the restoration work. . Belarusian companies will contribute to the concept of "Karabakh Green Zone".
—
Follow us on twitter @AzerNewsAz