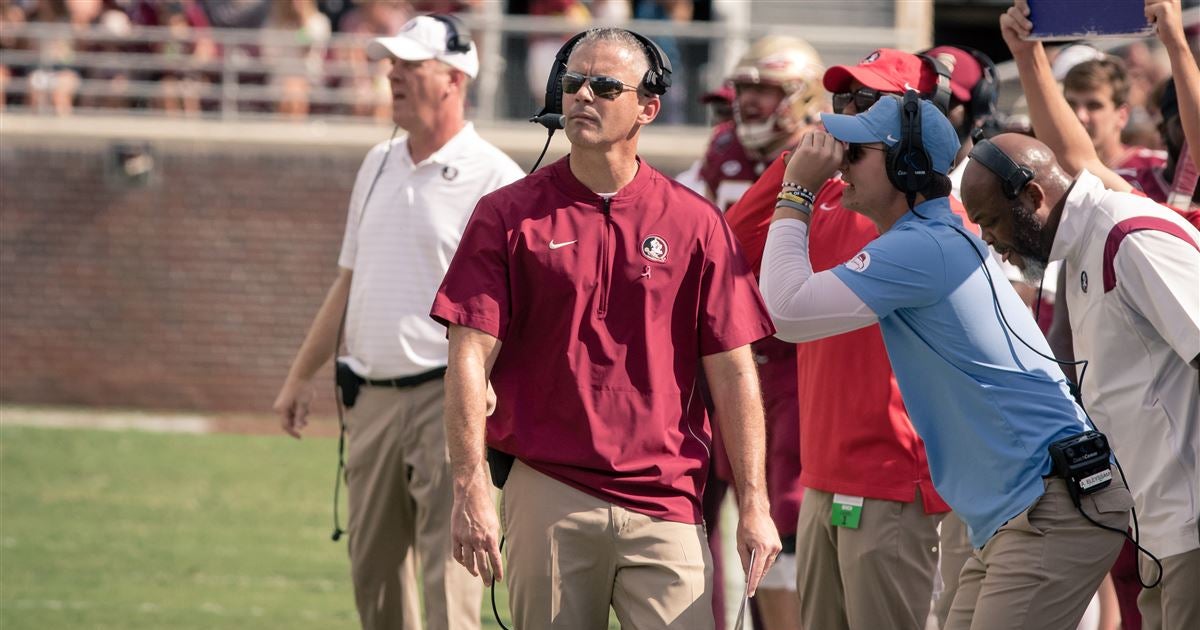 Confidence Building, But Norvell Says It's 'Back To Work' For FSU
Florida State Coach Mike Norvell mentioned "confident" or "confident" a dozen times during his press conference on Monday after a 35-25 win over A C. The coach referred to the Seminoles playing both a clean and complementary game of football, with the team achieving balanced output from attacking, defense and special teams.
And with that balance, Norvell sees confidence building in this program. The Seminoles have won back-to-back games after a 0-4 start, and are entering a week off with much needed momentum and self-confidence.
Norvell's opening statement at the press conference is below:
"Coming out on Saturday night, really, really proud of our football team. Having the chance to watch the movie, see the execution of a shot, what we wanted to do, how it went for four quarters, I thought we had played one of our most clean. We were 100 percent safe on the ball offensively. We were able to create take-out meals. Had explosive games. Had an explosive game on special teams. As you know, very good on the third downs offensively. Defensively there were three practices that North Carolina had, the first two of the game, there are things we need to clean up, but really the last practice we forced was an 11 game practice where they took a lot. of time. And we were trying to keep it going, we didn't want to give up any points at the end, but the way that drive went was something that took a good chunk of time. We did some good things defensively, we lost a lot of staff, a lot of guys had to play a lot of snaps. We wanted to take control of this game. The physique, the tenacity, the state of mind of the way our guys reacted after being down 10-0, just proud of our team. I think we are improving. It's a continuous work in progress, there are definitely a lot of teams we need to keep improving on. I think Jordan played at an extremely high level. He had explosive plays with the legs, but his effectiveness in throwing the soccer ball was incredible. Two incompleteness, a peak pass in the first drive, both incompleteness were in the first drive. And then he finished the next 11. Big decisions. I thought our receivers stepped up and made some critical and critical plays in the end zone that narrowed down to a few inches. We had a 3rd try and 12 conversions with Keyshawn on the sidelines. These guys came out big and were really proud of them. Overall a very good team win. To go on the road and play the game plan the way we wanted, our guys prepared well last week and performed well on game day. So proud of them.
A full transcript of Norvell's comments as well as a video of the press conference are available below …