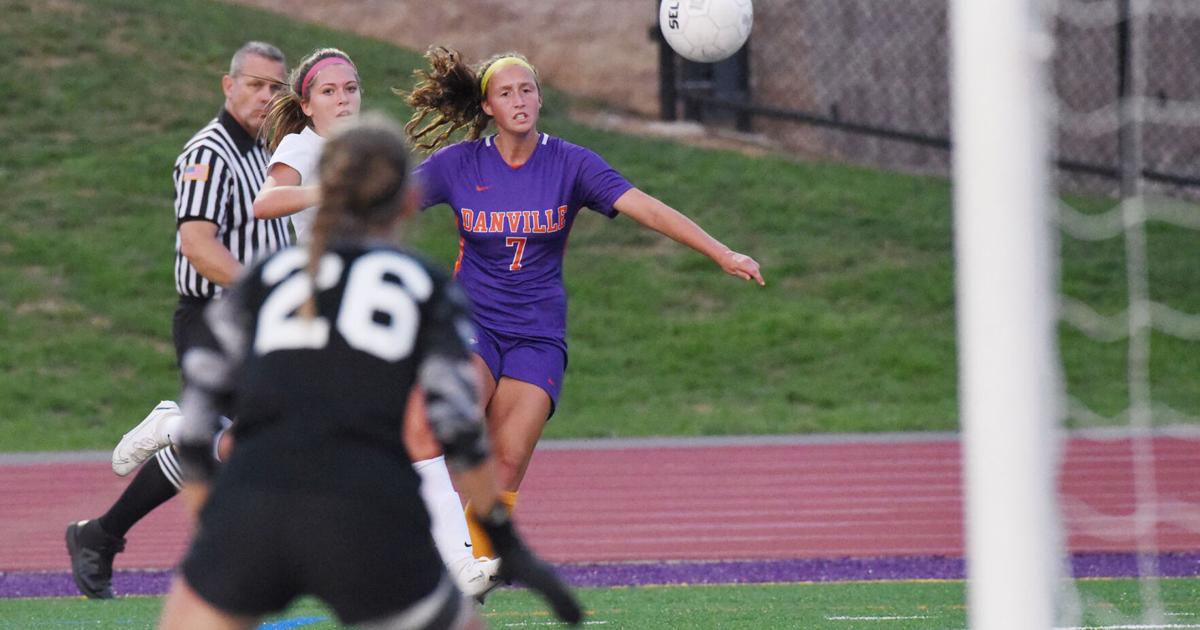 Confidence building for women's football team |
DANVILLE – Danville has shown steady improvement throughout the year with his biggest achievement against Williamsport on Wednesday night under the lights.
The Ironmen played a tough game against Williamsport, focusing on ball possession and defending if necessary to produce another close game.
Madison Merrell scored the game-winner off the crossbar with 7:42 left in the game, giving Danville a 2-1 victory over Williamsport in Heartland Athletic Conference-Division I women's soccer action at Ironmen Stadium.
"I knew if I could get close to that, I could keep training with my teammates and try to create another opportunity," Merrell said. "I trusted my teammates.
Confidence played an important role in Merrell's development as a rookie on the team. She's been a big part of the team's success over the last three games.
Believing in her at the college level was helped by encouragement from Pickle, who pushed the ball to give Merrell a chance to score the goal on Wednesday.
"She always cheers me on whether I make a mistake or just score a goal," Merrell said. "I love the support from the whole team."
Pickle scored just 1:25 into the second half before Nylah Ford leveled the game with 25 minutes remaining for the Millionaires.
It was a strong all-around performance for Danville after a 3-3 tie with defending Class A state champion Southern Columbia on Saturday. The Ironmen (3-3-1 overall, 1-0 HAC-I) are finding ways to stay in games with courage and a commitment to improve.
"It was a change of momentum to get everyone to the level of competition that we wanted," Danville coach Angela Sivillo said. "We played our game. I told them to look for mediums and control possession.
The Ironmen limited possession and forced the offense enough to take the lead and suppress their midfield and baseline. Williamsport recorded their first attempt on goal ten minutes into the second half after Pickle put the Ironmen ahead.
"It changed everything," Sivillo said. "We had a few upsets at the start of the season that we learned from. We got another win this week and a win tonight. We're sort of on a roll. It's a good turn in the season for us to keep building.
Both teams exerted more attacking pressure in the second half. Both goals came in the opening 15 minutes as both teams recorded a pair of shots on goal throughout the stretch.
Ford was particularly difficult for Williamsport (5-3, 0-2) in the second half as they forced Danville's back line to defend throughout the final 40 minutes. She was even called offside several times for being aggressive with the ball.
Pickle almost helped give Danville a goal advantage eight minutes from time when she fed a ball past Madison Merrell for a close attempt on goal. Merrell tried to get the ball over the keeper's head, but hit the crossbar.
The two would not miss a second time when Pickle pushed a ball from midfield to find Merrell near the 25. Merrell dribbled the ball and put a high ball at the far post for a goal.
---
DANVILLE 2, WILLIAMSPORT 1
Second part
Dan-Lucy Pickle, 38:35; Will-Nylah Ford, 23:32; Dan-Madison Merrell (Pickle), 7:42.
Strokes: Dan, 14-3. Shoot to the net: Dan, 7-2. Corners: Dan, 3-1. Checked in : Williamsport (Sarah Spring), 5; Danville (Kamryn Michaels), 1.