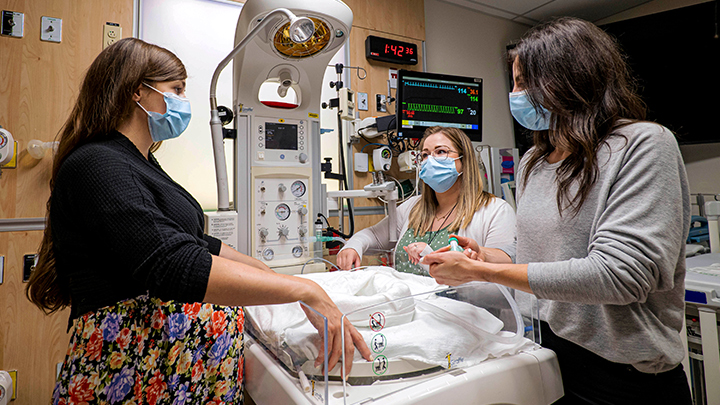 Hands-on practice builds skills and confidence
Simulation consultants Nicholle Oomen, left, Megan Rolleman and Cydnee Bryksa work at the Stollery Critical Care Simulation Lab, which opened in May 2021. Photo by Evan Isbister.
Stollery's Critical Care Simulation Lab Boosts Care Through Education
Kathleen Deman's Story | Photo by Evan Isbister
EDMONTON — It's been a busy and rewarding year of skills development at Stollery Children's Hospital Critical Care Simulation Lab, where simulation has been a cornerstone of the hospital's teaching strategy since 2006.
In fact, since its launch in May 2021, the lab has attracted 965 participants in 203 simulation sessions, making it the most active simulation program in the Edmonton area.
The primary goal of the program is to provide what-if scenarios where staff can hone their skills in providing care to patients throughout their hospital journey. The lab team supports staff by reminding them that it's okay to feel out of your comfort zone at times and creates opportunities to practice and refresh skills and build confidence in their abilities.
The launch of the Stollery Critical Care Simulation Lab program coincided with the opening of the new pediatric critical care redevelopment at the Stollery, a state-of-the-art space funded by the Stollery Children's Hospital Foundation. A strong supporter of simulation for years, the foundation provided the latest equipment and human resources needed to integrate simulation throughout the hospital.
"Thanks to funding from the Stollery Children's Hospital Foundation, we have now been able to hire two dedicated simulation consultants and a director for the hospital, and the program has grown exponentially," says Dr. Jonathan Duff, medical director of the simulation laboratory. program and associate professor in the Department of Pediatrics.
"Securing resources for a more formal program was a challenge and as a result, the use of simulation was restricted to certain areas of the hospital where simulation champions were able to integrate it into the program with their learners. These new simulation consultants work with both Stollery Hospital and the provincial eSim team.
Some of the most impactful initiatives supported by the program include the Pediatric Intensive Care Unit (PICU) Complex Patient Program, CPR activation and Connect Care training.
In one scenario, for example, teams from Stollery's Extracorporeal Membrane Oxygenation (ECMO) Life Support, Operating Room (OR), and Pediatric Cardiac Intensive Care Unit (PCICU) come together to practice an emergency process. The "patient" in this simulation (a high-tech baby dummy) starts out in CICU and then deteriorates to cardiac arrest. The PCICU team manages the arrest for five minutes before initiating the protocol to activate the ECMO Life Support and OR teams. These teams then arrive on the unit and surgically place the dummy patient on the highest level of life support.
"The opportunity for these teams to come together and assess processes that span multiple departments in a controlled environment has been invaluable," says Nicholle Oomen, simulation consultant, eSIM at Stollery Children's Hospital.
"In our first session alone, a latent threat to patient safety was discovered – and processes were changed in response to this discovery. This type of simulation highlights how the simulation program appreciates the complexities of patient care in several areas of the Stollery. This shows how we can facilitate cross-departmental simulation to drive process improvement.
Not only is simulation useful for practicing critical skills, such as during cardiac arrests, but it also has the potential to provide a safe environment for staff to consider the added complexity of having family members present during such emergency events.
"The Stollery Patient and Family Centered Care team is excited to partner with the simulation program to develop scenarios for teams to practice the skills needed to deliver bad news and help families understand what just happened to them. their child through these difficult events in a psychologically safe place," says Joelle Fawcett-Arsenault, Patient and Family Centered Care Coordinator at Stollery Children's Hospital.
"Staff are expected to be able to have these difficult conversations with families. But more often than not, they've never had the opportunity to practice, to get feedback, to trust that they're going to be the character in this family's hospital experience that they want to be.
As the Stollery Simulation Program develops, one of its goals is to provide each staff member with an opportunity to practice basic patient and family-centered communication and to receive feedback from patients and family volunteers.
Additionally, the program is set to expand to provide simulation for families and caregivers of medically complex children to practically prepare for their transition from hospital to community.
In its first year, Stollery's simulation lab program grew exponentially. The coming year will focus on its expansion into areas outside the ICU to ensure physicians, staff, students and families can reap the benefits of simulation-based education.
The Stollery Simulation Program falls under the Provincial Simulation Program eSIM (Educate, Simulate, Innovate and Motivate) — the single body that provides governance and sets standards for simulation-based education and activities across Alberta.
"We believe this program will help shape the future of health education," adds Dr. Duff. "High quality education leads to high quality care."
---
this year's international Medical Simulation Week from September 12 to 16 on the theme "Excellence in a new era".