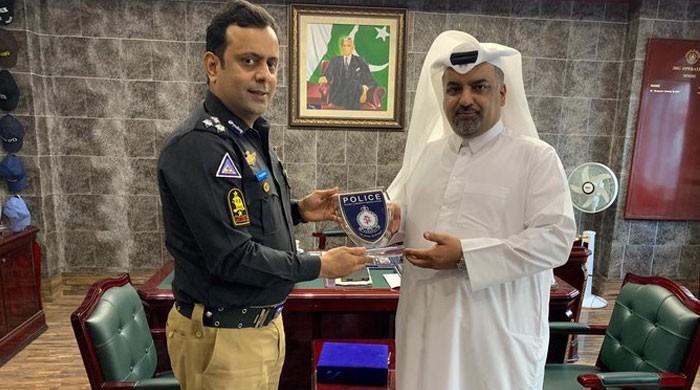 Karachi Police "Reorganize Emergency Response Mechanism"
The Karachi police are reorganizing the emergency response mechanism to modern international standards. A dedicated Deputy Inspector General (DIG) is now in charge of operations in charge of Madadgar command control (MCC-15) and associated services.
Speaking to The News on Tuesday, DIG Maqsood Memon, chief of security units in Karachi Police, including MCC 15, said the Security and Emergency Division includes various police units working together to strengthen the MCC 15.
Revamped MCC 15 will ensure first responders on all calls, prosecution of criminals, street crime prevention, anti-social element monitoring, instant verification, information gathering, facilitation and public assistance , SOS alerts and coordination with emergency services.
DIG Memon said the MCC 15 now responds to any situation within nine minutes, up from the previous response time of 30 minutes. The force would be equipped with modern gadgets, including mobile tablets, security cameras, wireless communications and trackers.
The force will have access to Identity Verification System (IVS) to verify CNIC authenticity, Vehicle Verification System (VVS) to identify unregistered and stolen vehicles and motorcycles, Criminal Record Check (CRV ) to check a person's history, incident tagging to capture details of any incident, monitoring of people released from prison, Tenant Information System (TIS) and traffic management, etc.
DIG Memon said an appropriate oversight mechanism would be in place by establishing a separate command office at the command and control center to monitor the force's activities. The location and movement of each patrol vehicle would be recorded, live streaming of all response vehicles would be monitored and recorded, instant verification would be recorded and instructions would be communicated from the command office, he said. he adds.
Describing the improvements to MCC 15, he said they had made major improvements so far without incurring additional expense. After the establishment of the Security and Emergency Services Division in Karachi, he added, the following improvements were made to MCC 15: the emergency services staff increased from 1,100 police to 2,200 people ; previously 106 police cell phones were deployed for 15 emergency services, but now 40 and 30 additional SSU and Muhafiz Force vehicles respectively are used for emergency calls; additional SSU personnel had been deployed to the Madadgar call center; seven deployment centers have been established in each district of the Karachi chain, from where the entire fleet and ground personnel will be dispatched on duty to provide a rapid response; and two DSPs in two teams are deployed in each zone for the supervision and monitoring of the deployment centers.
He added that a biometric presence system has been installed in each deployment center for proper monitoring and supervision of the workforce, KOT is established in each deployment center, the third team has started for better performance, 15 emergency mobiles operate 24 hours a day and the strength of the emergency services is facilitated by accommodation at four locations (CTD Building PTC Saeedabad, Chowkandi Base, Headquarters Khawaja Ajmair Nagri and Garden Headquarters Karachi).
DIG security said IT staff numbers had been increased to seven, from one to 15. Only two PRI were operating in 15 emergency call centers, but now a new PRI had been added and there was now three PRI in operation, he added.
Dispatchers per district have grown from five to seven and now each district has a separate dispatcher, and the staff at telecommunication and wireless stations have also been increased. Chairs for appeals officers were insufficient; as a result, 80 new chairs were provided to 15 emergency call centers and the level of service increased by 98 percent.
DIG Memon said the MCC 15 redesign included call recording, a listening and feedback system was acquired for quality improvement, and the Madadgar 15 vehicle fuel limit was increased by 10. liters to 15 liters per day.
Apart from this, he said that in order to further improve the capacity of the staff of the new Sindh Police Division, he had requested the Sindh Police Inspector General for emergency response training.
He shared that the Sindh police had formed a new division, namely the Police Security and Emergency Services.
Division, headed by the Security and Emergency Services Division DIG, Karachi, and the main objective was to streamline the deployment of security and emergency response to ensure a safe and secure environment in the city.
The newly created division began to operate to meet emergency response needs with available resources. In order to further improve emergency response and police safety, it is essential to equip and train personnel in accordance with established international standards to respond quickly to emergencies, he added.
This new Sindh Police Division aims to train 400 staff of the Security and Emergency Services Division in emergency response services, emergency call operators, surveillance operators and tasks. dispatch agents of the emergency response services (Dolphin Force) by the Punjab police. and the authorities of the safe towns of Punjab in the first phase.
He added that it was requested that a focal person be appointed for the coordination and assistance to initiate the above training program in order to provide a safe and secure environment for the citizens of Karachi.