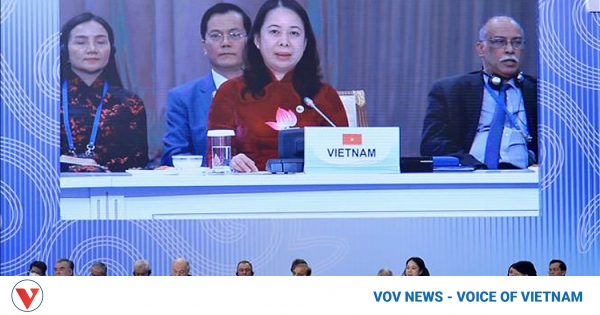 Vietnam showcases confidence-building initiatives at Asian summit
She suggested that CICA uphold the spirit of cooperation, action and responsibility to create a peaceful and stable environment for development in accordance with the UN Charter and international law.
In his view, the CICA should actively participate in shaping and leading the strong transformational trends of a new Asia to ensure rapid, sustainable and inclusive post-pandemic recovery and development.
In addition, she said that the CICA should promote complementarity between regional and interregional cooperation and linkage mechanisms to form an open multi-level network.
The Vice President highlighted the efforts of the Association of Southeast Asian Nations (ASEAN) to maintain peace and stability in Southeast Asia, ensure freedom of navigation and overflight, and settle disputes by peaceful means, in accordance with the law, in particular the United Nations Act of 1982. Convention on the Law of the Sea (UNCLOS).
She took the opportunity to reiterate Vietnam's foreign policy of independence, autonomy, peace, friendship, cooperation and development, multilateralization and diversification of relations.
Vietnam, as a reliable and responsible member of the international community, is ready to engage in all confidence-building efforts within the framework of the CICA for peace, cooperation and development, he said. she pointed out.
In his speech, President of Kazakhstan Kassym-Jomart Tokayev noted that after 30 years of development, the CICA has become an important forum for coordinating actions and building confidence in Asia. He expected CICA to lead the institutional and operational transformation to gradually become a regional organization for security and development cooperation.
Considering complex global developments, growing geopolitical tensions and non-traditional security risks, he said CICA member countries should enhance solidarity, dialogue and cooperation, and promote investment, trade, infrastructure connectivity, as well as people-to-people exchanges for good. of a peaceful, stable and prosperous Asia.